The Romagna is the realm of Sangiovese and the wines of Romagna are nowadays internationally acclaimed. The outstanding ones are the fruits of those families whose main pride is the commitment to the highest quality. The sloping soils around Predappio are clayey and very dry, ideally suited to the Sangiovese grape. The wines are vigorous, weighty, smooth and quite suitable for refining. They perfectly match local food (cappelletti or tortellini filled with herbs, piadina with porchetta or mushrooms and game. Yet they suitably complement a wide variety of food styles also outside our region when the pairing requires a first-rate red wine (DOC Superiore, DOC Riserva).
The Romagna is also the home of Albana (the first Italian white wine to be awarded with the DOCG) and Trebbiano, which are ideal as aperitifs or to pair more delicate first courses like passatelli soup, or as dessert wines.
Wine-tourism, together with the old towns, the historic villages and the beautiful hills of our land is an ideal break to taste the wines of Romagna. Come and visit our winery at Predappio Alta!
Click on the names of our wines to learn more about vines, vinification and pairing!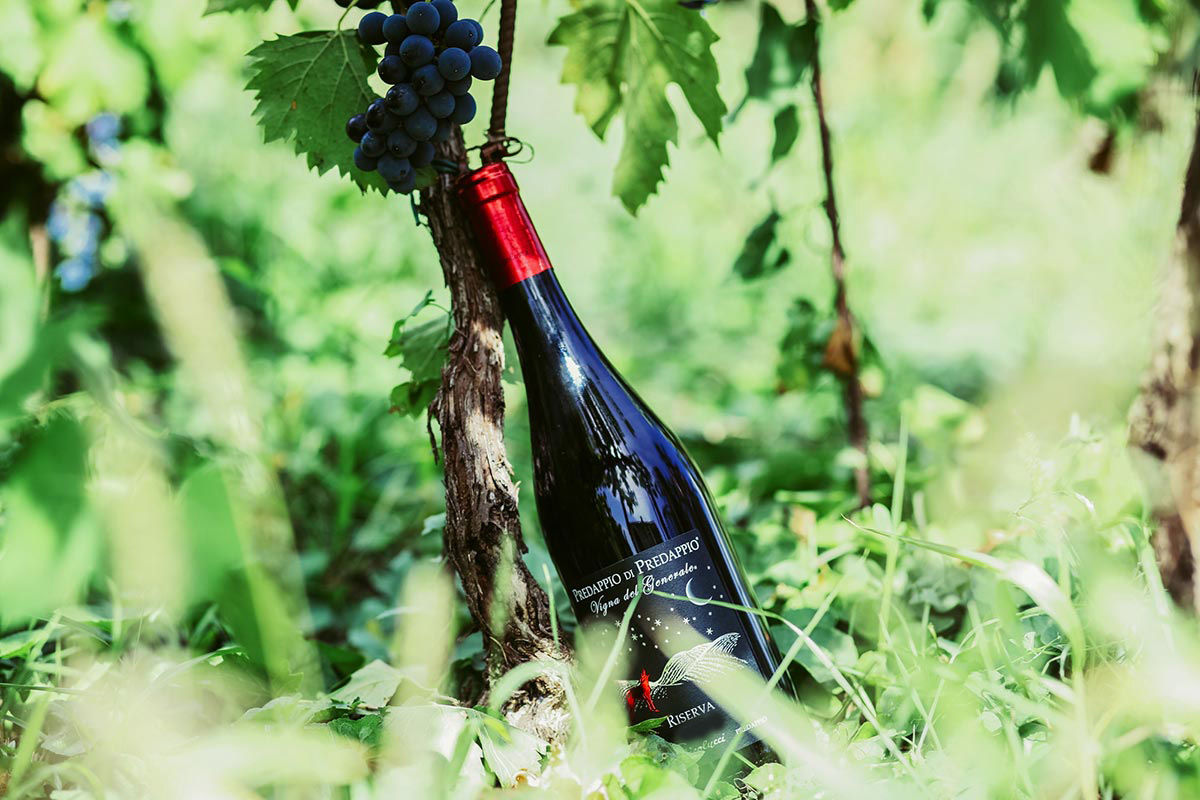 The Sangiovese Riserva "VIGNA DEL GENERALE" comes from the oldest vineyard, aged about 90 years. The name and the label derive from an old story: at Predappio lived a general who was a wine lover; coming back from war one day he decided to buy the best piece of land and to plant Sangiovese vines, a particular kind of Sangiovese with peculiar small grapes, which proved to be able to give very long- lasting wines: 10, 15 or 20 years. The general had a rather special friend who used to wander through the vineyards: a wolf! And a wolf greedy for grapes, which often spattered his grey coat. This is the story still handed on in the village.
It is a wine produced in limited quantity and saved for connoisseurs; it is full-bodied and developed, mineral and complex both on the nose and on the palate; odd in its first years of life but softening with age.
Predappio di Predappio – Vigna del Generale
Romagna Sangiovese DOC Superiore Riserva
.
Sangiovese (small berry) matured for two years in 30 hl. oak casks, followed by a three month refining in the bottle. Ruby red colour with garnet hints; on the nose it is very delicate with an evident spicy note of deep and pleasant graphite, coffee and chocolate, together with elegant and fine flowery tones of cherries, violet, underbrush and pomegranate. On the palate the wine is thin yet powerful, elegant, balanced and well backed by the right tannins;  the finish is dry and very long, always austere.
It matches red meat, wild fowl, game.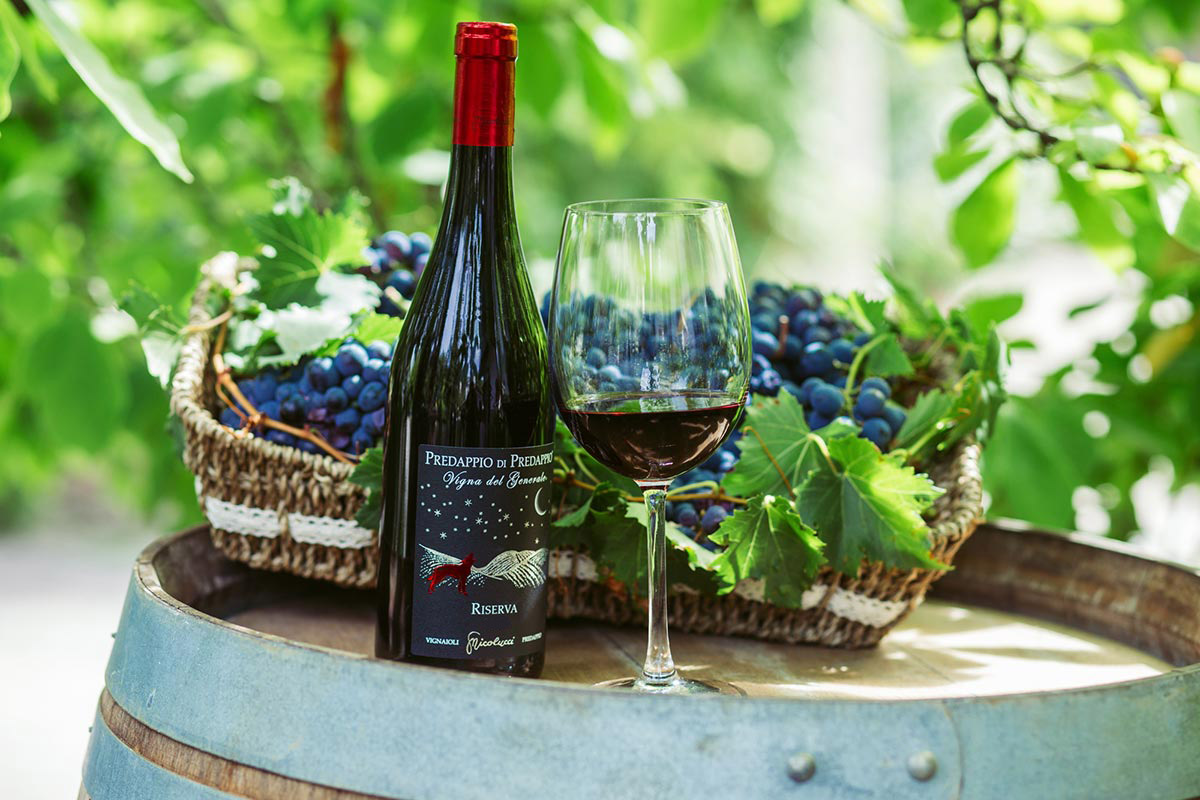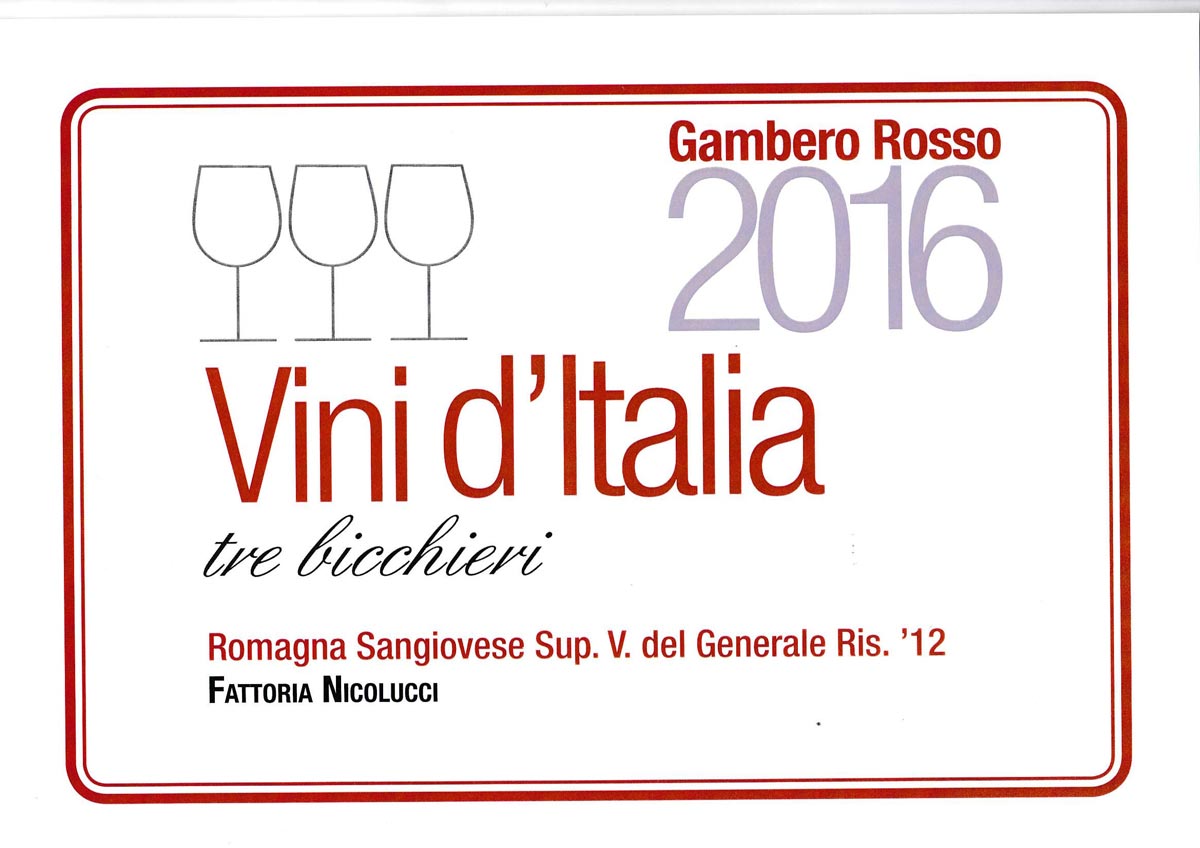 "THREE GLASSES" on the guide Vini d'Italia Gambero Rosso years 2009, 2012, 2013, 2014, 2015, 2016 and 2017.

Inserted "TOP HUNDRED", the best hundred wine of Italy De il Glossario of Massorbio and Gatti.
"5 GRAPPOLI" (5 GRAPES) on the guide DuemilaVini Ais editions 2011, 2012, 2013, 2014, 2015, 2016 and 2017.
Inserted among THE BEST WINES on the guide L'Emilia Romagna da Bere editions 2008/2009, 2009/2010, 2011/2012, 2014/2015, 2015/2016 and 2016/2017.

Evalutation of Excellence, "4 VITI" (4 VINES), on the new guide Ais "VITAE" 2015, 2016 e 2017".
Tre Rocche
Romagna Sangiovese DOC Superiore
.
Sangiovese (big berry and oval-shaped); after a short maturation in wooden casks the refining continues in bottle. Nice purple garnet red colour introducing pomegranate and violet flavours; the palate is dry, mellow and smooth, backed by the right tannins.
It matches pasta, meats, fish soup, anchovy and sardine.
"Two Red Glasses" on Italian Wines Guide Gambero Rosso Ed. 2015.
"Two Glasses" on the guide Gambero Rosso Italian Wines editions 2012.2013 and 2014
Nero di Predappio
Sangiovese – Terrano IGT
.
It comes from a skilful blend of hilly Sangiovese grosso and Refosco dal peduncolo rosso (red stalk or peduncle), also known as Terrano. This blend of noble grapes belongs to the tradition of wine making in Romagna and gives this red wine a peculiar characteristic and a strong personality. Shadowy ruby red colour toughened by the oak; on the nose dried fruit, violet and light morel. The palate is dry yet smooth, supported by a lively sweet oak aftertaste given by the barrique.
It matches pasta, roast or grilled meat, seasoned cheese like pecorino or parmigiano.
Inserted among THE BEST WINES on the guide L'Emilia Romagna da Bere editions 2014/2015 and 2016/2017.
I Mandorli
Romagna Sangiovese DOC Superiore
.
Obtained from Sangiovese Grosso; it shows the typical ruby red colour with marked flowery and fruity flavours. On the mouth it is winey, dry yet mellow, genuine and frank.
It matches sliced salami, traditional dishes from Romagna, pasta with bolognaise sauce and red meat.
Nicolucci Brut
Spumante Brut
.
A quality Charmat method sparkling wine, carefully made from Trebbiano and Pinot grapes. It has a fine nose of delicate aromas and a refreshing acidity; the bubbles are fine and persistent. Notes: best served as an aperitif, it can pair starters and any type of fish dishes. Serve chilled.
It's a perfect aperitif!
Passolo
Vino bianco da uve stramature
.
Careful selection of Albana grapes,obtained from grapes left to dry out on racks for about two months and then fermented and refined in small oak barrels. Thick gold yellow colour tending to amber, with persistent aromas of dried fruits and nuts, figs, apricots; on the palate it is ample and full, with slight bitter after taste. Notes: it matches fancy cakes, biscuits, the traditional ciambella from Romagna. Serve chilled.
It is recommended with dry pastry, biscuits and traditional Romagna donut.